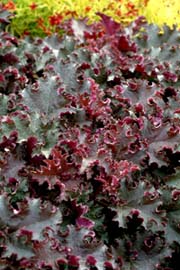 Heucheras can give you the best of both worlds:
Attractive to hummingbirds, yet
Not palatable to deer.
Can be grown in bright shade, but also
Will tolerate full sun (except for the yellow and chartreuse ones).
Like evenly moist, well drained soil, but
Are fairly drought tolerant once established.
Foliage: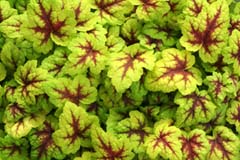 Semi-evergreen in a very wide range of colors – green, burgundy, black, purple, sliver, orange, chartreuse, yellow; some veined, some mottled, some the wildest mix of colors; many change colors with the seasons – and textures – flat, ruffled, or frilly.
Blooms: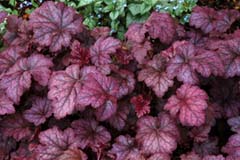 Numerous, small bell-shaped blooms on 18-36" scapes. Some varieties have "insignificant" green or ivory blooms; others come in a range of colors from white, to pink, to red. All are attractive to hummers and make excellent cut flowers.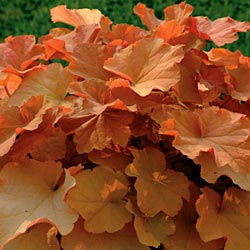 Bloom Period:
Late spring into the summer.
Plant Height:
12" tall with 18-36" bloom scapes.
Spacing:
Plant 24" apart.
Native to:
The United States.
Variety Spotlight #4, 3/7/2008 © Hilltop Farm